Adrienne Fritze and Her Art
I'm  an explorer and storyteller, with a penchant for creating stuff – art, written works, pseudo businesses, and most importantly–love. My mantra is my life's guide: All is as it is. I love, I am loved, I am a conduit for love. I walk with extraordinary companions, and will until the end of my days.
Thank you for being an extraordinary companion. And thank you for dropping by my gallery on RemarkableArts.
Journey to Freedom is my story. Sometimes the telling is egocentric, sometimes it is how others inspire me. Always it is about relationship, whether it is self to Self, self to others, self to Universe, or others to others.
There is an undercurrent to my story—the struggle for freedom—emotional, financial, expressive. These works are dedicate to all of us who strive to be free in our words, thoughts, actions and selves…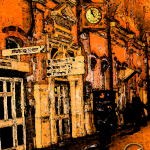 Just after I left my advertising career to pursue a new project, I had an opportunity to travel to England to meet with some of the world's foremost leaders in applying the arts to improve and transform the lives of prison inmates. 
I had just completed a 1 1/2 year experience leading arts-based workshops to women inmates at Coffee Creek Correctional in Wilsonville, Oregon. I was clear of the transformative power of the arts. What remained murky was how to put an organizational structure around this positive and impactful thing I did. But the men I met with in England did. These are some of the images I captured on that trip of enlightenment…
Marks. Lines. Color. My Doodles are studies in using just those elements to create something new on each page of smooth, silky paper. Fine tipped pens. Bic markers and Sharpee pens. By practice I am a collage and assemblage artist, so limiting my pallette to just these items, and just these elements was at first uncomfortable. In the end however, there is freedom in restriction. I started out with simple geometric forms, finally coming to a style that is layered, and complex right alongside pockets of air and emptiness. All this from simple marks, lines and about 36 colors.